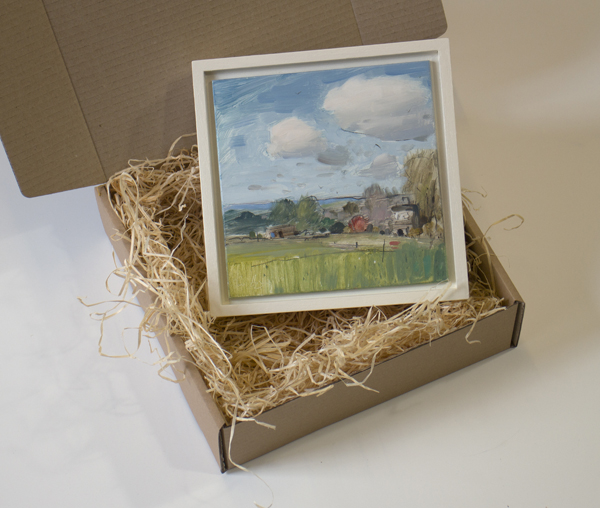 All paintings are available for sale unless marked SOLD at the end of the image title. Please get in touch via email with any purchase enquiry and I'll send you a current price list. If you want to view any available painting in person, a studio visit can be arranged. All small paintings are supplied in my presentation boxes, packed with plenty of wood wool, making them great gifts.
My preferred method of payment is via online bank transfer. I can give you my bank details on request. If online banking isn't an option for you, I can accept PayPal payments, cash in person, or cheque. All cheques must have cleared before paintings can be posted.
All purchases are covered by my 30 day returns policy – If you're not happy for whatever reason, just return the painting to me in the original packaging in the condition in which it arrived for a full refund.
Postage and Packaging is FREE within the U.K. Please enquire for international rates. Please allow 7 days for delivery within the U.K. and 14 days for international orders.
If you have an area in mind that means a lot to you and that you would like me to paint, please let me know. I like to choose the actual painting spots myself, as not all viewpoints make for good paintings, but I am keen for requests on specific areas to work in. My preference is Bristol, Bath, London, Devon, Dorset, Cornwall and South Wales as these are local to me.
If you want to commission a small plein air painting completed on location, you'll receive the piece in the FROM LIFE packaging. If you commissioned a larger studio painting, you can either collect from the studio, or I can have it couriered to you.
I don't take deposits and only ask for payment when the painting is finished and I'm sure you are 100% happy.
All Minis are packaged in their own mini box. If you are buying the painting as a gift for someone else, I can wrap the box in bubble wrap, so it arrives totally undamaged and can then be passed straight to your loved one, without any dents!